SysArc is proud to announce that it has been awarded the designations as both a Registered Provider Organization (RPO) and a CMMC Third-Party Assessor Organization (C3PAO) by the CMMC Accreditation Board. These achievements further SysArc's ability and mission to aid organizations with CMMC preparation and assessments with the highest degree of expertise.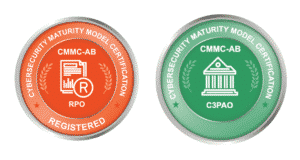 The Role of RPOs
The RPO designation identifies us as official consultants and "implementers" approved by the CMMC AB. When functioning as an RPO, we provide advice and recommendations for DoD contractors and suppliers to prepare them for CMMC accreditation.
This is a "non-certified" role, as RPOs do not conduct a certified CMMC assessment, but it allows us to aid clients in updating security and processes before being assessed. This designation signifies that we follow the highest industry standards set by the CMMC AB.
For information about how we prepare DoD suppliers for an official CMMC assessment, please see our CMMC RPO page. 
The Role of C3PAOs
Qualifying as a C3PAO authorizes us to conduct official CMMC assessments for organizations in the Department of Defense supply chain according to the CMMC Assessment Standard.
As part of the C3PAO process, SysArc is required to undergo a CMMC Level 3 Assessment in the near term and work towards an ISO 17020 certification within the next 18 months. 
As a C3PAO, SysArc is better able to assist clients at any stage of CMMC preparation and implementation due to the in-depth training and experience we have completed in over 150 DFARS and CMMC engagements since 2017.
Work with SysArc
Very few organizations hold both these designations. Our standing as both an RPO and a C3PAO enables us to fully assist DoD contractors throughout the CMMC process. The training our team has undertaken (and will undertake) to achieve these badges gives us an even greater, in-depth knowledge of the accreditation process, which we pass on to our clients to help them succeed in their compliance and security journeys. NOTE: We are not able to act as both an RPO and a C3PAO for the same customer due to conflict of interest provisions.
At SysArc, we are committed to the defense industry and community. We stay up to date with the latest changes and keep at the forefront of every new announcement and designation so we know exactly how to help you best. We continue to work hard to keep organizations in the DoD supply chain secure, compliant, and competitive.
To learn more about how SysArc acts as an RPO to aid DoD contractors in remediation and as a C3PAO in performing assessments, visit our CMMC Guide for DoD Contractors, or get in touch for a free consultation.